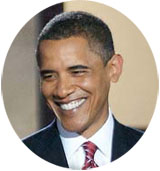 Dem Con 4 - Histrionics - Thursday evening, the Dems wrapped up their convention with Obama's acceptance speech at Mile High Stadium in Denver, about a mile from where my dad lives.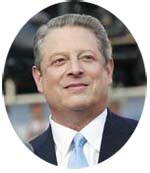 While there were a number of speakers during the night, the show featured former Vice President Al Gore and a "surprise" visit from current the VP candidate, Joe Biden.
For a while, I thought Al Gore might actually downplay his whole global warming crusade, as his talk began with lots of regular partisan rhetoric. He did mention the "borrow from China to pay for oil from Saudi Arabia" line and did so in a way that made me think that this was his line to begin with. Well, you never know with this guy! I thought his most memorable, and funny, line was about how "Big Oil and Big Coal have a 50 year lease . . . on the Republican Party." Of course, most of his immediate audience certainly took it as literal truth rather than as a witty turn of a phrase. I did not remember him ever mentioning either of the Clintons, although he made a point to say that Joe Biden's acceptance speech was great (which, of course, it wasn't). Still, the former Veep was at his pompous "best" when he compared Obama to Abraham Lincoln. Maybe Obama should start wearing a stovepipe hat . . . ?
Obama's fifty minute speech was, as usual, articulate and had more of the kinds of specifics he used in his primary speeches. The short biographical video was interesting, although the attempt to downplay his ivy league education just continues to astound me. While there had been some hubbub about the Greek columns, the backdrop looked like a stylized version of the White House, which I think was smart.
As to content, we were once again made to believe that our economy is worse than the Great Depression. How ironic that second quarter GDP figures came out that morning, showing robust growth of 3.3%. Well, we wouldn't want anything like economic growth get in the way of our fairy tale narrative! Indeed, as he went through a litany of personal stories of economic hardship all I could think of was that here was the ultimate lazy social activist. If some people need help, start a charity to help them; don't try to shove a hugely wasteful government program down our throats just because you and your friends are too lazy to do something about these "problems."
Obama went on and on about something called the "American Promise." Exactly what that means, and how it differs from what we generally call the "American Dream" escapes me. He did mention a few points here which just sounded like our existing system (e.g., that the market should reward innovation), but other points were disturbing - "Business has the responsibility to create jobs and take care of workers." Delusional.
Obama did spell out what kinds of changes he would promote. Here are some of them:

Cut taxes for 95% of all "working families." - Impossible, given the enormous amount of additional spending he is proposing. It is quite likely this "promise" would be operationalized as cutting income taxes for 95% of all working families, but then raising a host of other taxes that would more than offset this reduced tax burden. Well, he is a lawyer!

End our dependence on oil from the Middle East in ten years. - So, I looked up data on where we get our oil (find it here). It turns out that Canada is #1. Of the top 15 countries, the only Middle Eastern countries are Saudi Arabia (1.5 million barrels per day - mbd), Iraq (700 mbd) and Kuwait (200 mbd). So, why on earth would we want to stop importing oil from Kuwait and Iraq? So, it really comes down to just Saudi Arabia. OK, lets do this. We will just import more oil from our other oil trading partners to make up for this difference - Canada, Mexico, Venezuela, Nigeria and maybe even Libya and Russia! Well, there's a statement!

Tap into natural gas, clean coal and nuclear. - Yikes! Do his supporters know this?

We have a moral obligation to give every child a world class education. - OMG! He told us, early on in his speech, that his mother made him get up at 4 a.m. to work on his studies. Is that lesson not meaningful? Barack Obama's journey from a bi-racial union to the ivy league to the nomination to be President of the United States is truly remarkable. He has lived the life of personal responsibility and hard work. Yet, he wants to use the government to make these lessons impossible to learn. Like John McCain, I guess, I just don't get it.

Insurance companies must stop discriminating against sick people. - This shows how Dems in general, and Obama in particular, have not a smidgen of understanding about what "insurance" means.

Paid family leave; change bankruptcy laws to protect pensions; equal pay for equal work. - As one commentator remarked, it seems like Obama wants to turn us into another European country.
There was more, of course, but these were some of the lowlights for me. I thought that his deferring on a Martin Luther King reference until the end of his speech was also smart. The more he tries to take on the mantle of the portion of black America that descended from slaves, the worse he looks. The only one in his family background that ever had suffered any racial prejudice in America is him, and he is running as a major party nominee for President. So, I give him some kudos for drawing some of these connections in a subtle manner (versus, say, a Jesse Jackson). He did much to make this election a "crossroads in history" and he pledged to "march into the future" which makes this historic event one that may be better described as histrionic.