We ate lunch here and rested for a bit over an hour, and headed back up the canyon at about 3:15 p.m. Although we felt like we were making better time coming back, each leg was always a bit slower than when we were coming down. It must be that our familiarity with the terrain helps make the time pass faster on the return trip. Still, we knew, with certainty, that we would run out of light before we got back to the top. We made a valiant effort to get to the spot, before dark, where we would leave the bed and ascend to the rim. We nearly made it. We put on our headlamps about five minutes short of this goal. And, as it got dark, it got cold. We each had two jackets and both were on for the climb out!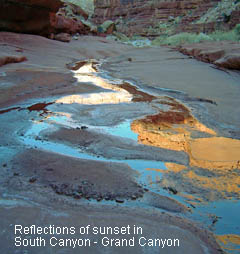 Coming down this route I noticed two features that made me feel confident about climbing back up at night. First, there were small cairns practically every 10 to 20 feet along the way; during the day, and in full light, they are certainly redundant, but in the dark they would be, and were, quite valuable. Second, there was really only one track that people and animals had followed. The steepness of the route discouraged wandering, so the only ground disturbed was the "trail," making it somewhat easy to spot.
So, we shuffled on up the route, slow but steady. It turned out easy to follow (not that we didn't have to look around a lot to see which way to go - we did). And, I think the spots of exposure felt less threatening in the dark, since we couldn't see them! While it took us 54 minutes to descend, in the morning, our ascent took us just 67 minutes and we reached the trailhead at 8:03 p.m.
When we returned to Cliff Dwellers, we were both wanting the same thing - hot cocoa!