I have been down the Tanner Trail many times. Some of these trips utilized the saddle between Escalante and Cardenas Buttes, the easy walk-through of the Redwall, and the ledge descent through the Tapeats. And, in 2004, a scamper up to the top of Cardenas itself. But, I had not connected up a full circle of Cardenas, missing the stretch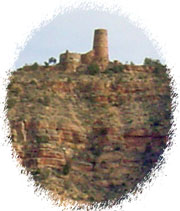 from the Tanner Trail, where it descends through the Redwall, to the Redwall break northwest of Cardenas. This picture perfect day in November was just made for this kind of hike - one mostly without shade and totally without any water sources. So, off I went, along with Eric Dhooge and Bill Ferris. Actually, they didn't know I wanted to do this circumnavigation. But, after a leisurely lunch at the Redwall Overlook, they accepted the challenge of following the Redwall rim around Cardenas.
We drove up to the canyon via Cameron and Desert View. [The Watchtower is shown to the right, which we were seeing practically the whole day.] We got to the parking area at 8:15 a.m. and were soon on our way. By 9:30 a.m. we had descended to the 75 Mile Canyon saddle, where there were some campers getting a slow start on the day. Well, if they were hiking out, they didn't have that far to go, so maybe it's worthwhile sleeping in!
As the trail winds along the Esplanade level, it passes right next to a huge rock, the size of a house. It looks like a convenient place to camp. I usually use it as a place to cache some water. It is about halfway along the stretch between Escalante and Cardenas Buttes, which is a nice placement for our looping hike. We reached this spot at 10:00 a.m. and took a fifteen minute break here.
At 11:23 a.m. we reached our immediate objective - the Redwall Overlook. It is a bit beyond where the trail starts to descend the Redwall and it is another favorite campsites for backpackers. It had been just a great day - clear, blue skies, cool temperatures, with some wispy clouds. We grabbed great spots to sit down while we looked out over the canyon and enjoyed our lunches.