Hiking and backpacking in the winter isn't always that much fun. It can be, but there are some drawbacks to such a trip. Besides the cold, there are the long, dark nights. It is not unusual to spend 12-13 hours zipped up in a sleeping bag, not exactly sleeping - doing a lot of tossing and turning. And, wondering what time it is and how cold it is. I have taken to bringing an mp3 player along on my hikes. If I don't actually use it during the day, it does provide quite a bit of entertainment value when it is time to turn in for the night. And, there is the cold. I have recently discovered the air-activated hand and toe warmers and I give them an enthusiastic two thumbs up. They really help, especially when getting up and started in the morning. Still, when I am hiking up and out of the canyon, and it is cold, I find that I cannot stop for very long without getting quite chilled. So, even though I am tired and achy, I push on and try to maintain a sustainable, if slow, pace.
This hike was something I put together on the last day of October. I was planning to drive up to the South Rim on November first so I could get a permit for a hike in March. That is the first day you can apply for permits for the upcoming March, and most people have to fax/mail in their permit request. Driving up pretty much allows you to get whatever you want. At least, on the first day that permits open up. So, I decided to take advantage of this 180 mile round trip drive to get permits for a couple of other hikes in December. One of the hikes I picked was this two night stay at the Bright Angel campground, right next to Phantom Ranch. Permits in December are not hard to come by. Even popular campgrounds are not full, so I wasn't surprised that I got the Friday and Saturday nights that I wanted. Once I had the permits, I also checked into getting some meals at Phantom. I arranged for breakfast and the steak dinner for Saturday, for my wife, Cara Lynn, and I. A first for me - steak at Phantom. I have had the hiker stew plenty of times, but this would be a special treat.

The hike occurred at one of the most opportune times I can ever recall. Northern Arizona got dumped on by a huge winter storm during the week leading up to this hike. The first sunny day was Friday - the first day of our hike. And, another winter storm was blowing in on the following Monday, the day after we got out. We had three beautiful days, with the canyon in its most picturesque form, as the photo above attests. Lucky us!
Even with nice weather in the forecast, I knew that the upper stretches of the trails would be snowpacked and icy. I have some heavy duty Kahtoolas, and two pair of instep crampons, which would probably be enough for this trip. But, over the last couple of years, I have noticed some other products on the market, and decided to pick some up something new. I got a pair of Yaktrax for Cara Lynn and some Kahtoola micro spikes for me. Both worked great! We didn't have any trouble with our footing. But, we did need to use them. Going down the Bright Angel trail, I wore my Kahtoolas to just below the three mile resthouse, while Cara Lynn wore her Yaktrax all the way to Indian Garden, some 4.5 miles from the trailhead. On Sunday, we came up the Kaibab trail, and donned our traction devices atop the Redwall, about 3 miles from the rim.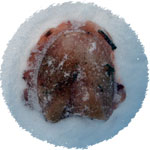 We got our usual parking spot behind the Bright Angel Lodge, although it wasn't fully plowed. Snow was up to our knees, but there was a reasonably wide path beaten into the snow. It wasn't too icy, but we learned later that the mule trips were held up for a couple of days. And, even this day there were only a handful riding the mules - they passed by us at the three mile resthouse. We saw very few folks on the trail, and mostly they were coming up. Along the trail, we did find these odd sort-of round shaped icy disks (see photo to the right). It puzzled me, but Cara Lynn figured it out - they were icy clumps that formed in the horseshoes of the mules. They would build up and then drop off. Well, you learn something new every day! There was just a little sun along the first stretch of trail. Otherwise, shady all the way down to Indian Garden. And cold - the temperature was in the mid-30s at the three mile resthouse. Still, the views were awesome, especially with the upper canyon covered in snow. We had gotten a bit of a late start - we left the trailhead at 11:45 a.m. But, it was only 2:15 p.m. when we reached Indian Garden. We stopped there for for about a half hour, eating a late lunch.