So, is this spring forever dry? The park service info refers to this as an "unreliable" water source. Some avid canyon hikers claim that it is dry. Harvey Butchart found only a bit of damp ground here in September 1957 and opined that there may be more here at different times of the year:

Don and I . . . [took] the time to investigate O'Neil (sic) Spring at the end of the spur trail just below the Redwall as you are going up to the mines. I came to a fair sized hole under some rocks, but there was no water in it at this time of year. It was damp, however, and had one willow growing out of the middle of the depression. [September 14, 1957]
Later, in 1970, Harvey looked for the spring again, and in what strikes me as an eerie coincidence, came up empty:
I had seen O'Neill Spring, dry at the time, only once 13 years ago, so I thought we had time to check it again. This time we must have never gotten on the right trail. We must have been too low after going down south of the spring. We did go north until we figured we were on the spur away from the regular trail, but there seems to be two spurs. We must have followed an old burro trail that led us farther south than the place we had come through the Redwall. We finally gave up the search and went down to the bed of the wash. [September 19, 1970]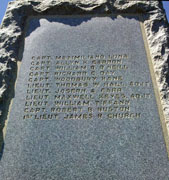 Well, eerie because it had been 13 years since he had first seen the spring, although dry. For me it had been nearly 13 years as well. He was there both times in September, while I was there both times in the spring (May and April, respectively). As best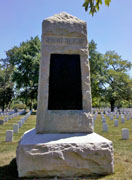 I can tell, Harvey never did make another attempt to locate O'Neill Spring.
I'll close with a final comment about Buckey. In the summer of 2011, I was in Washington, D.C. and took a trip to the Arlington National Cemetery to look up Major Powell's grave site and memorial. While there, I saw a reference to a monument honoring the fallen Rough Riders in the Spanish-American War. I found it (pictured to the left). Chiseled on the back side was the name of "Capt. William O. O'Neill," aka Buckey (shown to the right). Some weeks later I came to find out that Buckey is actually also buried in Arlington, but finding his marker will have to wait until another visit.
Want to know more about Buckey? Listen to this NPR story.



























What's in a name? Origins and Confusion about O'Neill Spring.
When I first published this blog there was some question about the proper spelling and who the spring was named for. Doug Nering pointed out to me that in some sources there is a reference to an "O'Neil Spring" in this location, and attributes it to "Jim O'Neil, a scout for Gen. George Crook." I looked it up in a slim book called Grand Canyon Place Names, by Byrd Granger, that I picked up years ago. And, as Doug mentioned, in there is a reference to Jim O'Neil as the namesake for this spring. So, I began to try and sort this out. I had just assumed that the spring was named for Buckey because on the old maps (as shown in the photo above), the spelling is the same as his name - O'Neill.
It turns out that my slim book is really just a reprint of a portion of a much larger tome, Arizona Place Names, that Granger edited in 1960 from the original edition published in 1935, by Will C. Barnes. Apparently, Barnes was reputed to have made many mistakes and Granger fixed them. Along with this reference was a citation that I didn't understand, so I went to the Special Collections Archive of Cline Library at Northern Arizona University (in Flagstaff) to see if they could help me. The woman there actually had known Granger and recognized the cryptic citation as relating to materials held by the Arizona Historical Society (AHS) in Tucson. She gave me the contact information for Kate Reeve, who heads the Library and Archives at the AHS in Tucson, to follow-up on this matter.
According to Kate the source Granger used was a book titled, "Pioneer Stories of Arizona's Verde Valley," published in 1954 where an old-time resident lists the eleven people who lived in Flagstaff in 1880, one of whom was "Jim O'Neil of O'Neil Springs." Kate also looked up the original note cards that Barnes used to assemble his information and found a reference to an "O'Neal Spring" named for "John O'Neill one of General Crook's scouts." But, the location of this spring is in the Flagstaff area and not in the Grand Canyon. Additionally, the reference to General Crook was crossed out, but whether that was done by Barnes or Granger is not clear to me.
Well, I kept looking. I had previously used the U.S.G.S. place names web site to find out about other locations. And, they usually have the old index cards that give details saved as pdf files. But, try as I might I wasn't getting anywhere with my search of "O'Neill Spring" nor with "O'Neil Spring." [Well, I did get a hit to a spring south of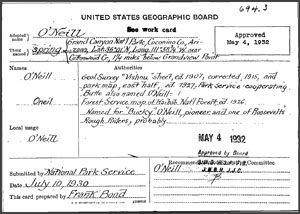 Flagstaff that was named "O'Neill Spring" in 1980, although that is probably what the Jim O'Neil reference meant in Barnes' original notes.] I tried a few times and through some combination of checking the right boxes found an entry for "O'Neill Spring (historical)" and got a copy of the decision card (shown to the right - click on it to see a bigger image) which was submitted in 1930 and approved in 1932. It notes that the spring was named for Buckey. [However, on the back side of the decision card someone has written in the 1960 Granger citation, attributing this to Jim O'Neil, so that error is still probably a source of confusion.]
I decided to buy a copy of the original 1935 edition of Arizona Place Names and in there it has the same information as on the U.S.G.S. decision card, and cites the U.S.G.S. as the source. So, Granger changed it in 1960, and it certainly appears to me that she got it wrong. There is a newer edition of this book, published in 1988, and it may be just a straight reprint of the original 1935 edition, since Granger's name is not on it. And, the original U.S.G.S. reference to "O'Neill Spring" is there.
I have no doubt that the spring was named for Buckey O'Neill and that the attribution to Jim O'Neil was just a mistake. As further evidence, I would note again that the spelling is consistent on the old Matthes-Evans map as shown above (a 1939 reprint of the 1927 edition). As luck would have it, someone on the Yahoo Grand Canyon Hikers group posted a link to an even older map (still based on the survey work by Matthes and Evans), reprinted in 1919, from a 1907 edition and based on survey work done in 1902-1903. It, too, has the exact same reference to "O'Neill Spring." This appears to be the map reference given on the decision card.
I am currently assuming that the spring was named to memorialize Buckey after he was killed in the Spanish-American War. I don't believe that he had any business interests with Pete Berry (who ran the mine at Grandview and built the trail to this spring). If so, then the name would have been given sometime between the summer of 1898 and the survey work in 1902/03. I am looking for some documentation to buttress my supposition and there may be a further update on this score. Also, it would be great to locate a historic photo! But, I'm not holding my breath on that one.