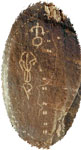 Second Attempt at Huitzil from the Rim
Sunday, January 7, 1996
It's a new year, the weather is pleasant and there isn't any snow on the ground. Sounds like a good time for another trip up to the South Bass and take another crack at the Point Huitzil route. This time I went up with hiking buddy John Eastwood. We got an early start and managed to swing by the backcountry office on our way in so I could get a permit for a hike later in the spring. This time I was able to drive through the gate at the reservation boundary and we parked past the Pasture Wash Ranger Station, on a dirt road that heads west here. By 10:50 a.m. we were hiking along the road and then through the woods to the ravine that leads to the rim. We got through the Kaibab and Toroweap layers and at the Coconino we went west to first scout out the route in hopes of bettering our chances of actually finding it.
Upon re-reading Harvey's notes and spotting something that looked like a residual wall, we determined that the correct route through the Coconino is before the twin towers in the Toroweap. Up until then I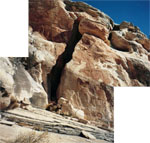 had thought we needed to go further. No wonder it took Harvey so many trips to find this route!
So, off we went. The little wall looked more like an impromptu ruin (see below) with six antlers laying about. We continued down the sloping Coconino, finding rocks piled up in a crucial spot. Then, we were on a ledge with a big tree we had seen from our scoping spot. There is a huge detached rock here and we wondered if you could chimney down it. You can, although only John went down a bit. [On the way back, he decided to climb up it for fun.]
We reached a spot with a deep crack and were stymied for a bit. Peering into the crack, I thought I saw some reflected light. John went in and found that there was a 90 degree turn that lead to sunshine. So, I followed. The other side of this crack had a wooden pole, with steps cut out, that lead up to a hole where you can pop out on the ledge above. That is the proper route and we were right next to it the whole time! [See the photo above.]
Once past this spot, there are loads of petroglyphs here and we stopped to look them over. Then, on our way. From here, the route was quite straightforward. The ledge took us to the next climb down. Then, we followed that ledge the opposite direction to what Harvey called the "Moki steps." These are indentations in the rock that are good enough to hold your hands and feet in place as you crawl down the rock. Then we were on a bench that wrapped around the cliff and took us to the bottom, where we could see that a talus slope would get us the rest of the way to the Esplanade. On my first attempt to find this route, from the bottom, I got to within 20 yards of this spot, but didn't see it. So it goes.
It was already 3 p.m. when we were here, so we were soon on our way back up. We came back up and made a quick detour over to Pt. Huitzil proper. Then, it was back to our ravine and back the way we had come. I tried to use my compass, but it seemed rather confusing. Still we lucked out and just happen to find the telephone line, although it was lying on the ground! We followed it all the way back to within 10 yards of the truck, which we reached at 6 p.m. I have also posted up a much fuller account of this trip.

This isn't a hard spot to find, but it
does require climbing down a steep
sloping rock. There was a built-up
step here to assist in getting down
and back up again.

An impromptu ruin with antlers.

So, we found this crack and
literally couldn't reach the bottom.
It wasn't too far below me, but I
did use my hiking boots to wedge
myself in and make sideways steps.

Glyphs, crack and hole. [Annotated]

The petroglyphs are very extensive
here and, surprisingly, mostly face
up and seemingly exposed to
the elements. But, space enough
for John to relax.

John at the bottom of the Moki Steps.

We had seen this chimney on the
way down, before we found the
crack. But, to challenge his return,
John opted to climb up through
it to the top.

The bottom of the route.