To get to Kilimanjaro it is highly recommended that you avoid changing flights anywhere in Africa due to additional vaccination requirements. As it was, there aren't any requirements for Tanzania, although I got the Hepatitis A & B shots, a tetanus booster and I took pills for typhoid. I opted not to take malaria meds (and that turned out fine - I don't remember seeing any mosquitoes) nor get the yellow fever vaccine. I did bring along some Diamox, just in case I was suffering from any high altitude sickness and some Ciprofloxacin, an anti-biotic in case I picked up a local bug. I was also carrying Meloxicam for my knee in case it flared up during the trek.
I picked a flight itinerary that I thought would be kind to me - at 6 a.m. a 5-hour flight from Phoenix to New York; wait for 4 hours; a 7-hour flight from New York to Amsterdam; wait for 3 hours; a 9-hour flight to Kilimanjaro. I left on Thursday morning and arrived Friday evening. With the ten hour time difference (Phoenix to Kilimanjaro) that amounts to a 38 hour trip.
What didn't I bring? I didn't bring anything for colds or flu. Why should I? Maybe because of the two sickly college students that sat next to me for seven hours from NY to Amsterdam. I would say that their coughing and sneezing was persistent although not unrelenting. Still about 40 hours later I was hit hard by cold/flu bug that started off as a very sore throat. More on that later.
To prepare for any uncertainty about our luggage arriving with us we were advised to wear our hiking boots and bring necessary clothing in our carry-on. That way a wayward bag has some time to catch up to us without delaying our start. None of us had any problems in this regard. On the hike, we will have porters that will be carrying a bag for each of us, weighing up to 33 pounds. It can't be your standard type of luggage - we needed soft sided duffels. That was probably my biggest purchase for this trip for something that I may not ever use again. I did buy other items, but I think they'll all do duty on later hikes.
I flew Delta to NY and then KLM the rest of the way. It seemed that on those KLM flights we were constantly being fed and the alcohol was free, although I didn't want to indulge. One cool thing about the last leg was that next to the TV monitor embedded in the back of the seat in front of me was a USB port, so I could fully charge my phone without any special adaptors. During the trip I left my phone in airplane mode and only used it for texting if I could get a free wifi signal - as I did at the airport in Amsterdam and the KIA lodge (after a fashion) in Kilimanjaro.
There were to be seven of us on this hike, but two (Todd and Kristin) arrived a day or two earlier. The other five of us (all on the same flight) met at the airport after we passed through customs and found our Thomson driver, Mohdy. Besides me there were Mark & Michelle, from Houston, and Dewey and his daughter Tracy, from New York. Mohdy took us to the KIA lodge, which is probably less than a half mile away, and whose property is fenced and guarded (which was true of other places that we saw later).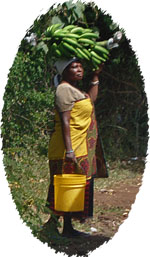 The facility has some quaint huts nicely laid out. It was great to get a shower and to get some real sleep.
After breakfast the next morning we assembled on the terrace and met Penda, the head guide for our hike. He gave us a full briefing on the trip and had rental gear that the others had arranged for. I was the only one not to rent anything. It didn't take much time and Penda was soon off and we were ready to make a move to Ndarakwai Ranch, where we would spend the next night. We headed out at 10:30 a.m. in two Land Rovers. We seemed to mostly be in rural areas and didn't pass through any heavy city concentrations. We saw people coming and going everywhere. There were four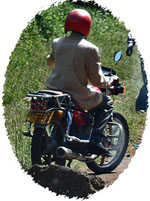 primary modes of transportation (not counting cars) - walking (e.g., the woman carrying the bunch of bananas on her head), motorbikes as light delivery vehicles or one-person taxi services, the odd-looking three wheeled cabs and the larger, but still small, microbuses that picked up, and dropped off, people just about anywhere on the road. It all seemed quite chaotic, but we noticed groups of two, or three, uniformed men and women every half mile or so along more congested parts of our route and Mohdy told us that they were traffic police.
The roads steadily deteriorated until we were on a dirt road. Passing boys herding small groups of cattle and the occasional homestead we eventually reached the ranch. It is part of an 11,000 acre wildlife preserve. It's also off the grid and seems to have all power generated with solar panels. Not that there is much use for power - only lighting so far as I could tell. We each had a hut/tent set up that was rather charming. Spartan furnishings, water heated only through solar power (it was effective but we were warned that an early morning shower may not be as hot), and very airy. I found it quite comfortable even if we had to collect our TP in paper bags rather than flush it down the toilet.