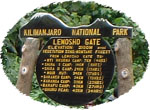 Day 1 - Sunday, July 12, Lemosho to Forest Camp
There was a flurry of activity at the trailhead. Our porters were already there and busy sorting through the camp supplies that need to be hauled around for this trek. We were treated to a sit down lunch and it felt more than a little awkward to be eating while everyone else was working! We started our new protocol for all meals: our "head waiter" Moses has a kettle of warm water for us to use in washing our hands. They go to great lengths to see to it that we don't pick up something from unsanitary conditions. Following lunch Penda introduced the group of porters, so it's "Jambo!" all around ("Hello" in Swahili). Of course it all flies over our heads at this stage. We also meet our two assistant guides - Adam and Ahi. For the next nine days they will be our constant companions on the hike and we will be interacting with them as much as we do with Penda.
This was my first and last experience with the "long drop" outhouses that are at every camp. They are just holes in the floor of a tiny little structure. These are what the porters use and on some (many?) of the treks the tourists as well, since we saw some that were specifically for tourist use (but, still, just holes in the floor). We seven will have the luxury of two portable toilets set up in little privacy tents to use at our campsites. In fact, I think that they sometimes set one of these up at lunch spots a couple of days.
We are on our way at about 1 p.m. assuming I have correctly interpreted my camera's recorded time of 3 a.m. - our local time is 10 hours ahead of my home/camera time. We are at 8,000 feet and will hike through the forest today. But, really it seems more like jungle to me, the flora is so profuse. Well, like a cold jungle.
We all walk together with our guide de jour - Adam or Ahi - doing the pacing. "Po-le, po-le" is their watchword, meaning "slowly" in Swahili, and they make sure that we don't overdo ourselves even if we aren't that high up yet. It is a successful strategy. We may be itching to go a bit faster here, but it pays off later. And, since I am feeling ill, the pace is fine with me! I tended to hang out at the back since I wasn't able to do much insofar as participating in conversation. It also gave me a chance to more easily step aside and snap a photo.
As we neared the camp, Penda played joke on us, and I suspect on all his groups. "We only have about 45 minutes to go," he says and when we hear voices a few minutes later he claims that he said, "4 to 5 minutes." The camp is all set up as the porters travel about twice as fast as us. We usually see them early on each day as they pass us and then later in the day it's just us hiking.
At the Forest Camp, aka Big Tree, there are at least two other groups here (one being quite loud for far too long at night). We get set up in our tents and then assemble for dinner in the dining tent. It is comfy. Moses tells us what he is serving and takes care of us. Penda eats with us and we do get a chance to learn a bit more about him - his grandfather was a porter on the first successful climb up Kilimanjaro, made by Hans Meyer in 1889. Wow. Talk about history! While his father was also a guide, and Penda has been to the summit some 175 times, he hopes his son will become a doctor. He also had a funny story about how he was able to marry outside of his tribe. Penda is from the Chagga tribe, which lives around the south and east sides of Kilimanjaro while his wife is from the Massai tribe, which live further west on the plains. Winning the approval of her family was ... well, a challenge. I suspect, but did not ask, that most of the porters are Chagga. Adam, one of our assistant guides is Massai, and he is able to get more guiding jobs because he also speaks French. Still, Penda called Kilimanjaro Tanzania's cake - everyone wants a piece of it. So, young men come from all over the country to try and hook up with some trek on the mountain in order to make some money. There are exceptions - we do have one woman porter and she does carry as much as the men insofar as I could tell. We met another group that had a woman porter but Penda told us that she was their cook and doesn't have to carry as much as the others. [I'm sure that was also true of our cook, who was probably the oldest among our porters.]
There are some noisy Brits nearby and at 10 p.m. Penda hushed them up. I don't notice because I am out of the tent every 45-60 minutes to water a bush (well, I do use the portable toilet). I am resting but I am not getting the sense that I am really doing any sleeping. My throat is still sore, my head is congested and my appetite is weakening.