SPOT GPS tracker - I wore the Spot every day. I wasn't sure that the forest readings

would be properly recorded, due to the vegetation canopy, but plenty of way points were received.

I sent out a special custom message from Uhuru Peak which those on my mailing list got. I downloaded the way points onto a map and saved it at My Spot Adventures. The map is below (and linked to the site):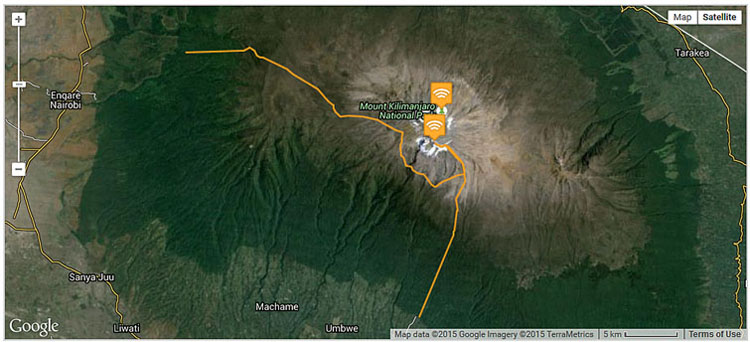 The inventory of the 30 lb. duffel at the start of the trip:
In a garbage bag:
Big Agnes pad
Big Agnes inflatable pillow
Big Agnes air funnel (to fill up pad)
Space blanket bivy
Sleeping bag liner (in pouch)
Fleece pillow cover
In a green dry bag:
**Snowboarder's jacket
Quark fleece coat
**Heavy gloves
Heavy mittens
**Goggles
Fleece hood
In a small red dry bag:
Sleep wear - long johns, shirt, socks
Cotton briefs for camp
2 bandanas
Small towel & wash cloth
Fleece cap
Camp shoes
In a medium yellow dry bag:
Kahtoolas (left in Arusha)
2 spare battery packs for camera
**Deet
**Micro towel
Folding bucket
**Gold Bond, liquid soap, earplugs
Rope, pole tips, flashlight
Xtra shovel duty supplies, tissue, wipes
Spare TP
2 packs of bandanas (for gifts)
In a large yellow dry bag:
Extra long johns (for hiking)
Under Armour long sleeve tee
**UA long sleeve shirt
REI long sleeve shirt
3 base layer tees - red, green, blue
LS base layer fleece shirt
LS base layer wool shirt
Heavy hiking pants
4 extra pair briefs
3 extra pair socks
5 extra pair sock liners
In the zippered mesh pocket of duffel:
Snows of Kilimanjaro book
Chemical hand/toe warmers
Packets of hot apple cider
Packets of Gatorade


In a garbage bag:
Stuff sacks with 2 sleeping bags


Extra garbage bags and other bags.
**Item was not used on the trip, either due to weather conditions or I just didn't need it.
The inventory of the 15 lb. day pack (no water) at the start of the trip:
All weather shell coat
All weather shell pants
Fleece coat
Windbreaker/lined coat
2 knee braces (not used)
3 liter water bladder
2 water bottles (@1 liter)
1 16 oz. water bottle (for Gatorade)
Map, trek guide book, journal
Money/Passport pouch
SPOT GPS tracker
Ground pad for use during hike
Shovel & supplies
Sunscreen
Meds - Cipro/Melox/Diamox
A note on batteries: I brought along two spare batteries for my camera and I did swap one out deep into the trip. I brought extras for my headlamp and SPOT tracker but never had to use them. I kept my phone off during the whole hike, not being able to conveniently recharge it. Still, its battery was down to zero when I got back to KIA lodge. I had a small battery charger that I used then to get my phone back up and running. And, I was able to fully charge it on the flight from Kilimanjaro to Amsterdam. Its seems to me that each of the other groups brought along some kind of battery charger - Todd had one that would recharge a phone maybe a dozen times and Dewey had a solar powered battery charger which he was able to use. I think everyone else tended to use their phone cameras to take pictures, except for Mark and me. Well, Tracy also had an SLR that she used to take photos, although I am pretty sure she mostly tended to use her phone.
A note on sleeping bags: We were advised to bring zero degree rated sleeping bags, although it seems that the usual lows are in the teens and twenties (Fahrenheit). I brought my fifteen degree Big Agnes bag (the Lost Ranger) which sufficed for this trip. I also brought along a one pound summer down bag to use as a super liner which I did one night and it was toasty warm. That bag is a mummy type, while the Big Agnes is rectangular. Then, I also had a lightweight fleece liner that I used every night. In an emergency I figured I could also use my space blanket (as noted in my commentary) and, of course, I could wear a lot of warm clothing.